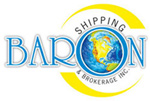 SLHTA Cook Off 2012
Mr. Willibald Charles
- Managing Director of Baron Shipping and Brokerage Incorporated
"Baron Shipping is grateful for the support from the industry and feels honored to receiprocate. This sponsorship demonstrates our commitment to ensure that the tourism industry is successful, not only by the reliable shipping services that we provide, but ensuring that they have the necessary financial resources to successfully execute this Taste of the Caribbean Compeition.
It is our hope that by building on this reciprocal relationship, the tourism industry will lend its support by using our services, which allows the members of SLHTA special considerations and Baron Shipping and its principals, SeaFreight Line, SeaPack Incorporated and Zim Line will do all that is possible to lend support whenever the need arises.
The Taste of the Caribbean Competition is a national issue and Baron Shipping will work with all industries to secure our National Pride.
Therefore, it gives me great pleasure to present this cheque to you on behalf of Baron Shipping and Brokerage Incorporated. As we have committed, we expect team Saint Lucia to give of their best and take home the top prizes in this compeition."