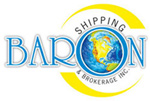 Trucking and Delivery
Trucking is a vital part of any shipment, whether it is from port to port or door to port, cargo needs to be moved in a prompt yet steady and secure manner.
Baron Shipping and Brokerage Incorporated makes provisions for trucking and delivery services island wide, to aid in the quick acquisition of goods, at reasonable rates. Contact us for more information on open market rates.