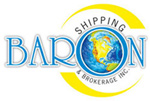 Frequently Asked Questions
What are Dangerous Goods?


Cargo which is potentially hazardous such as inflammable or toxic goods.

What are Marks & Numbers?


Markings distinctively displayed on goods being shipped or on their packaging, for ease of identification.

What are Surcharges?


Additional charges included in an international ocean freight price quote will generally include basic ocean freight charges to cover the port – to – port transportation, fuel surcharge, security charges, documentation fees, etc.

What does CIF mean?


Cost, Insurance and Freight

What is a Bunker?


A ship's fuel

What is a Container Yard?


A container yard / park is a facility at which loaded and empty freight containers are accepted for loading onboard vessels. Containers are also off-loaded and stored at container yards / parks.

What is a Container?


Box, designed to enable goods to be sent from door to door without its contents being handled.


What is an Ocean Freight Bill of Lading?


An Ocean Freight Bill of Lading (BOL) is a document issued by the carrier indicating that certain goods have been received on board for transport to a specific place and consignee. The BOL is legally significant because it represents the contract between carrier and shipper. It also serves as a receipt and document of title to the goods.

What is Chassis?


Trailer on which shipping containers are carried when moved by road.

What is Demurrage?


Scheduled charge payable by the shipper or receiver to the shipping line for detaining equipment at a container yard beyond the time allowed.

What is Detention?


Charge payable by a shipper or receiver to a shipping line for detaining equipment beyond the time allowed after clearance at a shipping yard.

What is F.A.K?


Freight of all kinds

What is F.C.L?


Full container load

What is FOB?


FOB stands Free On Board. It is used to indicate when liability and ownership of goods is transferred from seller to buyer. In international shipping, FOB (name of origin port) means that the seller (consignor) is responsible for transportation of the goods to the port of shipment and the cost of loading. The buyer (consignee) pays the cost of ocean freight, insurance, unloading and transportation from the arrival port to the final destination. The seller passes the risk to the buyer in this way.

What is L.C.L?


Less than a container load. Individually palletized, crated or loose boxed shipments are consolidated on freight carriers bound for the intended destination. This service is designed for shipments which in themselves are insufficient to fill a container.

What is Live Load and Drop and Pickup?


When getting a price quote for international shipping, specifically for ocean freight, a shipper should be sure to know the difference between a live load and a drop and pick. Pricing and responsibilities are different with each option.

In a live load arrangement, a driver will transport an empty container to the shipper. After the shipper loads the container, the driver will secure and seal the container for transportation. There is generally a time limit of three (3) hours in which the load must be completed without incurring additional cost.

What is Reefer?


Refrigerated container

What is SED (Shipper's Export Declaration)?


Many shippers must also complete a Shipper's Export Declaration or SED. An SED is a form used by the U.S Government to compile export statistics for the country. Certain shipments are exempted from reporting. Ask your freight forwarder for assistance in completing this form for shipments over US$2500.00.

What is Short Shipment?


Part of a consignment which has not been shipped in a specific ship, normally because there was insufficient space in the ship or the goods arrived after the ship had completed its loading, or the goods were overlooked and not loaded, or the ship had already sailed.

What is T.E.U?


Twenty foot equivalent unit. Unit of measurement equivalent a twenty foot container. A forty foot container will therefore be equivalent to two twenty foot containers.

Who is a Consignee?


Person to whom the goods are to be delivered by carrier at the place of destination.