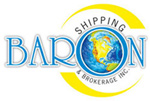 Welcome to Baron Shipping and Brokerage Inc.
On behalf of the management and staff, I wish to take this opportunity to extend a warm West Indian welcome to the official website of Baron Shipping & Brokerage Incorporated, Saint Lucia.

At Baron Shipping & Brokerage Incorporated, our mission is to deliver the highest level of customer satisfaction. You are the reason for our success and we want to help you accomplish your goals. In developing this site, our central focus is to ensure that our visitors are able to easily navigate our pages to get the information they require. Should you have any questions and / or concerns, please feel free to contact us or visit the links provided, to the major shipping lines we represent.