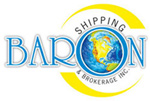 Company Information
Beginnings
Baron Shipping and Brokerage Inc. was formed in 2002 to fill a gaping need for convenience and professionalism in shipping and related services. Within a few short years we have revolutionized the industry through hard work, listening to our clients and demonstrating a commitment to service excellence.

A full service company, we have combined the hitherto scattered elements of the industry to provide the most comprehensive and affordable transportation service on the island.

The Baron Shipping and Brokerage Inc Advantage
What distinguishes Baron Shipping and Brokerage Inc. is our expertise at every stage of the shipping process. From providing the right carrier to clearing customs to trucking and delivery, we take the burden completely off your shoulders. Baron Shipping and Brokerage Inc. quickly and safely transports your cargo to or from Saint Lucia and all major ports of the world, and provides information on your shipment upon request, within minutes of your call.

When your imports arrive on island, our vast knowledge of customs legislation and procedure expedite them through the ports with unmatched efficiency (our Managing Director is a former Customs and Excise officer, with more than 15 years experience). We can also arrange to have your goods delivered to a location of your choice. Efficiency is the key to a successful business, and Baron Shipping and Brokerage Inc. has the tools to help your business develop along a sustainable and profitable path.

Customer satisfaction - our driving force
The pinnacle of our pride is the satisfaction that we see in every customer's face. Our company's mandate is to ensure that each person who walks through our doors leaves happier than when they entered. Our staff are friendly, informed and dedicated to providing the most modern and results-oriented service possible. At Baron Shipping and Brokerage Inc., doing business with you is always a pleasure.
Let us be your trusted partner!
Mission
To be a financially sound institution with the highest level of customer satisfaction, combining convenience and professionalism with the most modern shipping services available.
Vision
To keep Saint Lucia connected to and in pace with the globalized world by providing the most extensive and reliable shipping services at an international standard provided by a professional and skilled staff.